Expense Allocation
Reimbursements: Closing the Loop on Expense Allocations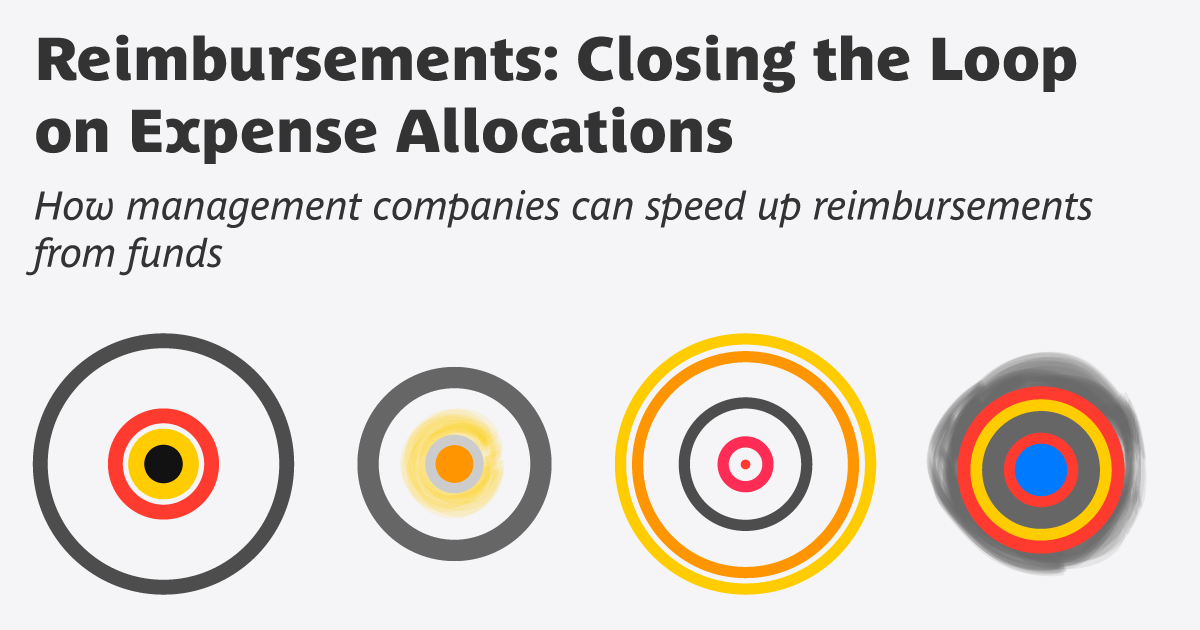 How management companies can speed up reimbursements from funds.
Nicholas Molina
September 13, 2022
Expense allocation is a complicated process relying on various inputs that may not be available when vendor invoices come due. So, to avoid late payments, management companies (ManCos) often pay vendors out of their own pocket, accounting for the cost as an asset due from funds. Expense allocation determines each fund's pro rata share of a given expense; when that's done, the next step is to get the funds to reimburse the ManCo for the advance.
But reimbursement is more complicated than just sending the funds an invoice. Fund controllers have their own controls and procedures to follow, and the stakes are high – overcharging a fund risks trouble with the SEC or investors. Accordingly, fund invoices require appropriate detail and documentation and must be approved by fund controllers, possibly senior management. More hurdles follow. Everyone involved needs to update their books and records, and just because a fund approves an invoice doesn't mean they've paid it.
Even for smaller asset managers with one ManCo and a handful of funds, the reimbursement process takes considerable time and effort, tying up cash that could be put to better use. The process is far more complicated for large asset managers with multiple ManCos, multiple fund administrators, and nested fund structures. Most managers would prefer reimbursements to happen each month, but the challenges involved mean reimbursements are a quarterly process at best.
But now, hedge fund and private equity managers have new tools to help them speed up the reimbursement process. Enter expense allocation software.
Fully featured expense allocation software goes beyond expense allocation and can automate reimbursements, closing the loop on the holistic process. Expense allocation software, like IntegriDATA EAS, act as a subledger for intercompany transactions, automatically updating allocations and reimbursements as new information becomes available (e.g., updated NAVs) or events occur (e.g., deal breaks). EAS also brings structure and control to reimbursement approvals, handling approvals in-system and providing fund controllers a complete picture of relevant details, invoices, and activity. Even better, using EAS, fund controllers can get involved earlier in the allocation process, allowing them to challenge issues long before they get a reimbursement invoice.
When reimbursement invoices are approved, EAS automatically closes out the process. EAS integrates with ManCo and fund general ledgers to automatically book applicable journal, accounts payable, or accounts receivable entries. Finally, EAS accelerates reimbursement by sending payment details to a payment management system, like IntegriDATA CashWire, or by sending invoices, approvals, and other necessary documentation to a fund administrator.
Looking for timely reimbursements? Let's recap how EAS can help:
Automate allocations – Automatically update allocations as new information or events occur.
Simplify accounting – Intercompany transaction subledger that integrates with general ledgers to auto-book entries.
Streamline approvals – Systematic, controlled, and auditable workflow for every step of the process.
Accelerate payments – Communicates payment instructions for faster reimbursements.
Thinking about implementing expense allocation software to speed up management company reimbursements? Learn how IntegriDATA EAS can help.
Tags
See Also