Press Release
EAS Expense Allocation Integration for Workday® Now Available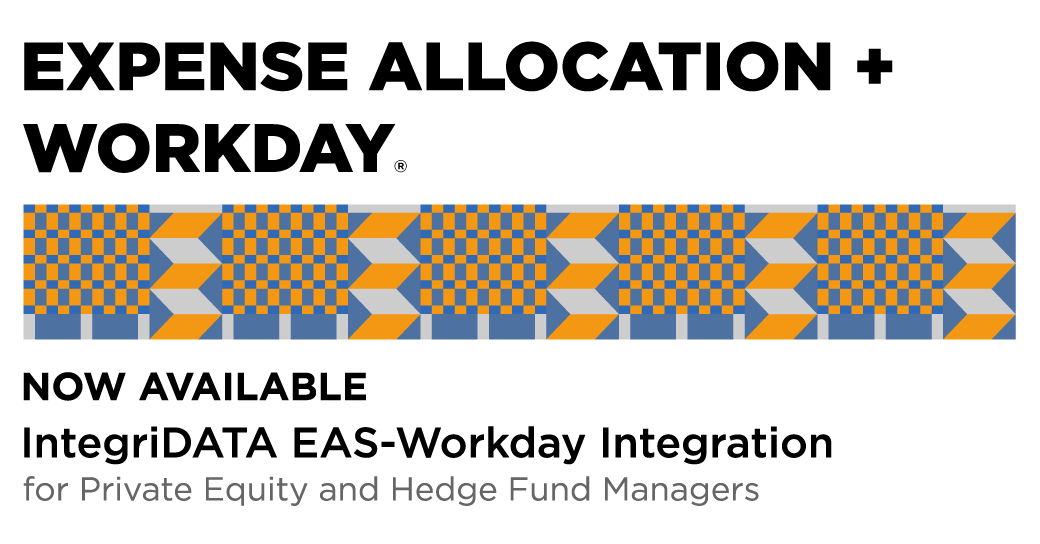 IntegriDATA EAS integration automates expense allocation for private equity and hedge fund managers using Workday
IntegriDATA
October 17, 2019
NEW YORK, NY — IntegriDATA, a RegTech software vendor, today announced seamless integration between its Expense Allocation System ("EAS") and Workday® Financial Management. Now available, the new API integration enables private equity and hedge fund managers to automatically allocate complex expenses, helping them improve efficiency and ensure regulatory compliance.
"Our large enterprise private equity and hedge fund clients are overwhelmingly selecting Workday as their ERP," said John M. Maronich, EAS Product Manager at IntegriDATA. "The EAS-Workday integration empowers them with accounting and compliance tools that increase allocation speed, ease, and accuracy while preventing costly misallocations."
The EAS-Workday integration uses the Workday Report-as-a-Service (RaaS) API and supports invoice and T&E expenses. When integrated, EAS automatically collects expenses from Workday, allocates them, and sends the results back to Workday, a fund accounting system, or both.
Expense allocation is a complex private equity and hedge fund accounting process to proportionately distribute shared expenses across management company and funds. The SEC made expense allocation a compliance priority after it discovered alternative asset managers were unintentionally misallocating expenses and causing investors to overpay expense fees. The average SEC misallocation penalty is $2.9 million.
IntegriDATA developed EAS to automate expense allocations and eliminate the risk of misallocation. With EAS, private equity and hedge fund managers can instantly perform complex allocations without the risk of costly mistakes.
Other EAS features:
Accounts payable and receivable intercompany settlements
Allocation compliance and audit tools
Client configurable allocation rules and custom allocation logic
Expense allocation approval workflows
Fund general ledger integration (e.g. Investran, Geneva)
About IntegriDATA
IntegriDATA is a financial technology software company dedicated to helping the investment management industry improve operational efficiency and reduce risk. Founded in 2002 by financial industry experts, IntegriDATA specializes in expense allocation, payment automation, and collateral management solutions. IntegriDATA clients include hedge funds, private equity firms, fund administrators, institutional investors, and mutual funds. IntegriDATA software helps the investment management industry service over $1.1 trillion AUM as of October 2019.
For more information on IntegriDATA, please visit integri-data.com. Connect with IntegriDATA on LinkedIn, Facebook, and Twitter.
Workday, Inc.: WORKDAY, the WORKDAY Logo, and BUILT FOR THE FUTURE are trademarks of Workday, Inc. registered in the United States and elsewhere. The use of Workday, Inc. trademarks are for descriptive purposes only and use of such marks herein does not represent affiliation, sponsorship, or endorsement.
Tags