Press Release
IntegriDATA Introduces Money Market Module for Enhanced Treasury Management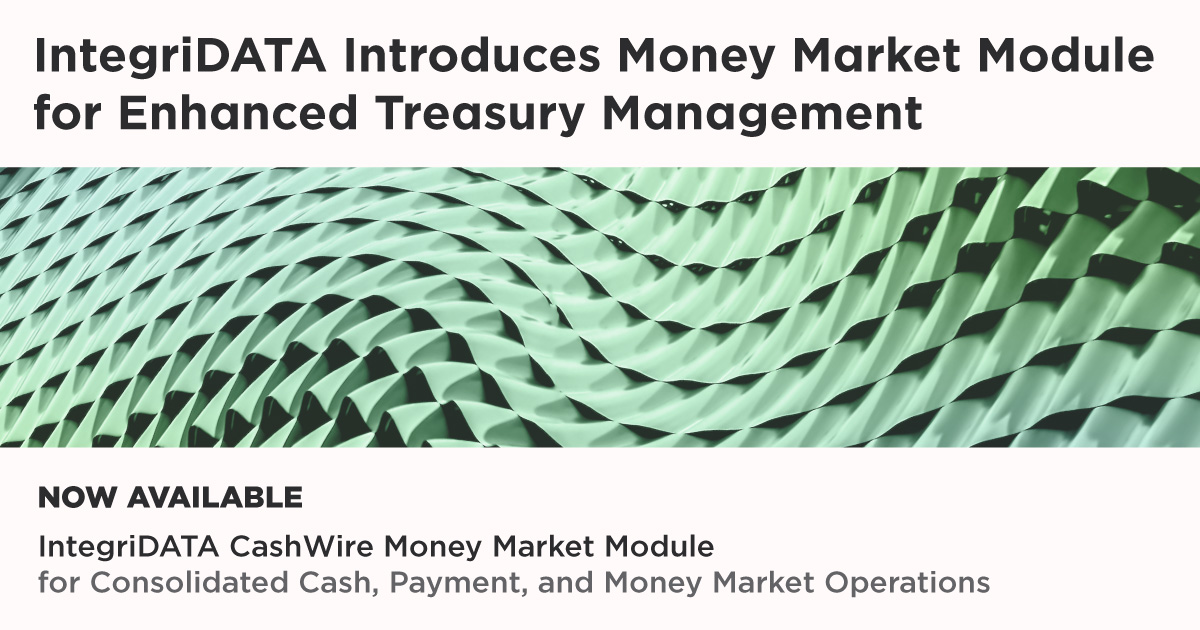 IntegriDATA introduces a comprehensive Money Market Module for CashWire, streamlining payment, cash, and money market operations
IntegriDATA
October 30, 2023
NEW YORK, NEW YORK — IntegriDATA, a leader in alternative investment software solutions, announced today the launch of a new Money Market Module for its CashWire payment and cash management software. This new module enables alternative asset managers to consolidate payment, cash, and money market operations within CashWire. With the Money Market Module, CashWire users can effortlessly move surplus cash into money market funds to optimize returns and diversify their portfolios.
"As interest rates continue to climb, we're excited to offer our clients a simple and effective solution for money market investing in CashWire," said Mitch Schulman, CEO of IntegriDATA.
The innovative Money Market Module improves treasury workflows by integrating short-term liquidity optimization into the CashWire payment and cash management software. Clients can seamlessly subscribe to, redeem from, and monitor money market rates and positions from the same dashboard they use for managing payments and cash. The module is provider-agnostic, granting clients access to a wide array of money market providers and funds directly within CashWire.
About CashWire
Payment processing and cash management is an essential back-office function that becomes increasingly challenging as the number of banking and vendor relationships grow. Multiple banking relationships mean multiple bank portals and payment protocols, leading to fragmented workflows that are cumbersome to manage and are vulnerable to error or fraud. IntegriDATA developed CashWire in 2012 to help hedge funds and other investment managers improve payment efficiency and security. As a universal payment portal, CashWire consolidates and secures payment workflows, allowing investment managers to swiftly move and manage cash with less effort and risk.
Other CashWire features:
Support for leading delivery methods, including SWIFT, ACH, SFTP, API, secure PDF, and more
Advanced security controls, including custom approval workflows, two-factor authentication, and single sign-on
Standing instruction, wire template, payment, cash, and account management
Real-time intraday cash balances
Security transfer functionality and support
About IntegriDATA
IntegriDATA is a financial technology software company dedicated to helping the investment management industry improve operational efficiency and reduce risk. Founded in 2002 by financial industry experts, IntegriDATA specializes in expense allocation, payment automation, and collateral management solutions. IntegriDATA clients include hedge funds, private equity firms, fund administrators, institutional investors, and mutual funds. IntegriDATA software helps the investment management industry service nearly $2 trillion AUM.
For more information on IntegriDATA, please visit integri-data.com. Connect with IntegriDATA on LinkedIn, Facebook, and Twitter.
Tags