Press Release
IntegriDATA Partners with Sage Intacct to Improve Investment Management Expense Accounting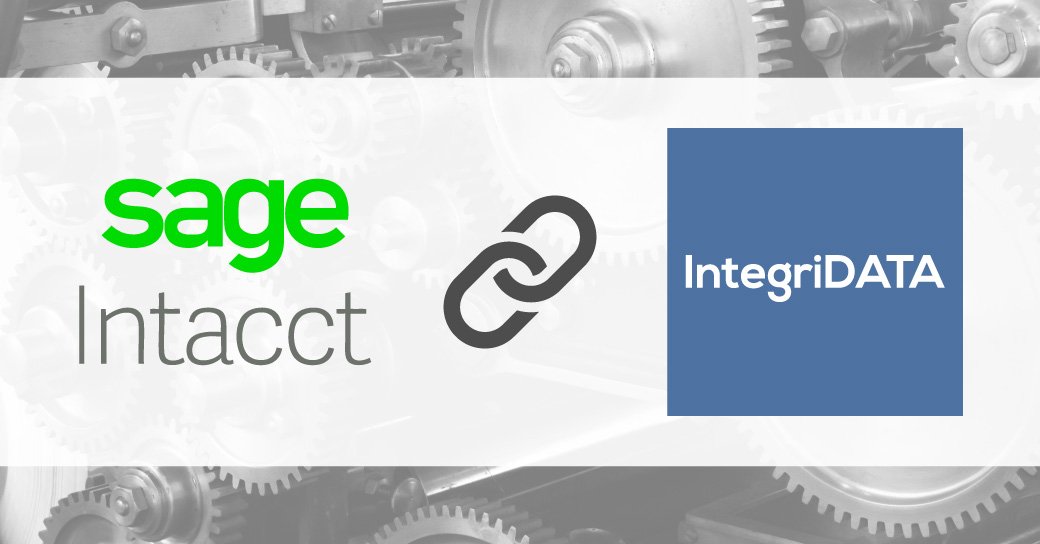 Joint Private Equity and Hedge Fund Clients Can Now Easily Allocate and Book Expenses
IntegriDATA
January 31, 2018
NEW YORK, NEW YORK — IntegriDATA, a financial technology software company, today announced a new partnership with Sage Intacct, a leader in cloud accounting software, that transforms private equity and hedge fund accounts payable and expense accounting. Now available, the integration between IntegriDATA's Expense Allocation System ("EAS") and Sage Intacct lets investment managers seamlessly allocate and book expenses, helping them improve efficiency and ensure regulatory compliance.
"Private equity and hedge fund managers understand the compliance risk and are working to improve how they allocate expenses," said Dan Noone, IntegriDATA's head of professional services. "Our partnership with Sage Intacct allows our clients to automatically and instantly book allocation results, helping them save time and avoid SEC penalties."
Expense allocation is the complex process of allocating shared expenses across management company and funds. The Securities and Exchange Commission began focusing on expense allocation after they discovered investment managers were accidentally misallocating expenses and causing funds to pay more than their fair share. Punitive SEC misallocation actions started to mount and – with an average penalty of $3.7 million – investment managers scrambled for ways to improve their error-prone process.
IntegriDATA developed EAS to automate expense allocation and help investment managers improve efficiency and ensure compliance. Using EAS, investment managers can instantly perform complex allocations that used to take hours without the risk of making costly mistakes. Available from the Sage Intacct Marketplace, the EAS Sage Intacct integration completes the process, seamlessly booking EAS' allocation results into the Sage Intacct Accounts Payable Module.
IntegriDATA and Sage Intacct hedge fund and private equity customers can now:
Automate invoice capture, storage, and management.
Route invoices through custom approval workflows.
Instantly allocate approved expenses across management company and funds.
Seamlessly book journal entries into Sage Intacct.
Communicate results to fund administrators for reimbursement.
"From our inception, we have believed and demonstrated the importance of integrating a company's core financial system with other business systems and processes," said Chris Rose, VP of Business Development at Sage Intacct. "Sage Intacct has focused on building Best-in-Class financial management software that is open and leverages the ability to connect with other key applications specific to customer requirements. The capabilities provided by IntegriDATA and Sage Intacct will enable our joint Private Equity and Hedge Fund customers to more easily eliminate inefficiencies and drive improved results."
About IntegriDATA
IntegriDATA is a financial technology software and consulting company dedicated to helping the investment management industry improve operational efficiency and reduce risk. Founded in 2002 by financial industry experts, IntegriDATA specializes in expense allocation, payment automation, and collateral management software. IntegriDATA clients include hedge funds, private equity firms, fund administrators, institutional investors and mutual funds. IntegriDATA software helps the investment management industry service over $803B AUM as of January 2018.
For more information on IntegriDATA, please visit integri-data.com. Connect with IntegriDATA on LinkedIn, Facebook, Google+, and Twitter.
About Sage Intacct
Sage Intacct is the innovation and customer satisfaction leader in cloud Financial Management. With the powerful combination of Sage and Intacct, the Sage Business Cloud offers the best capabilities of both companies. Bringing cloud computing to finance and accounting, Sage Intacct's innovative and award-winning applications are the preferred financial applications for AICPA business solutions. In use by organizations from startups to public companies, Sage Intacct is designed to improve company performance and make finance more productive. Hundreds of leading CPA firms and Value Added Resellers also offer Sage Intacct to their clients. The Sage Intacct system includes accounting, cash management, purchasing, vendor management, financial consolidation, revenue recognition, subscription billing, contract management, project accounting, fund accounting, inventory management, and financial reporting applications, all delivered through the cloud.
Sage Intacct is based in San Jose, California and an entity of Sage, the market and technology leader for integrated accounting, payroll and payment systems, supporting the ambition of entrepreneurs and business builders and a FTSE 100 business. For more information on Sage Intacct, please visit www.sageintacct.com or call 877-437-7765. Connect with Sage Intacct on LinkedIn, Facebook, Twitter, Instagram, and YouTube.
# # #
IntegriDATA and the IntegriDATA logo are trademarks or registered trademarks of IntegriDATA Business & Technology Solutions, LLC and/or its affiliates. Sage Intacct and the Sage Intacct logo are trademarks or registered trademarks of Sage Intacct, Inc. and/or its affiliates. Other company and product names mentioned herein may be trademarks of their respective owners. The use of the words "partner" and "partnership" does not imply the existence of a legal partnership relationship.
Tags