Press Release
Hedge Funds Streamline and Secure Security Transfers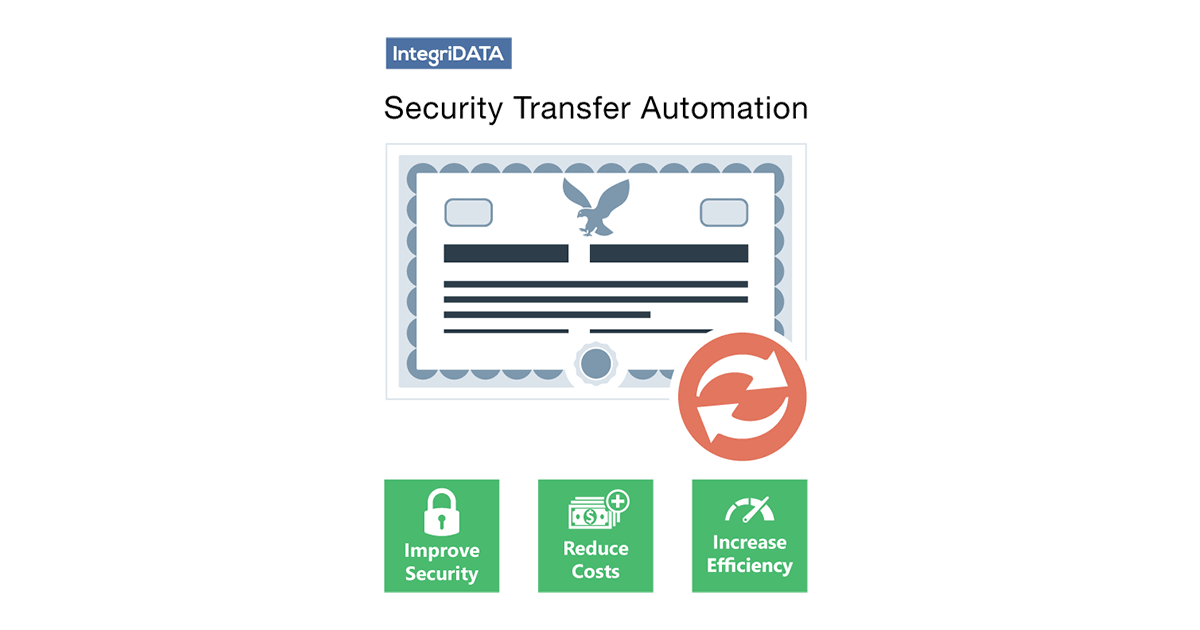 IntegriDATA expedites the hedge fund security transfer process with new module for its CashWire platform
IntegriDATA
June 1, 2017
NEW YORK, NEW YORK — IntegriDATA, a financial technology software company, today unveiled a new Security Transfer module for its CashWire Payment Management System ("CashWire"). The Security Transfer Module automates and centralizes security transfers to expedite processing and reduce operating costs. The module's secure workflows and industry-leading security controls defend hedge funds against fraud and human error.
"We're excited to expand our acclaimed CashWire platform with security transfers," said Ted Haslam, IntegriDATA's Head of Product Management. "Our clients can now transfer securities with the same speed and control CashWire provides them for cash."
Transferring securities is the process of moving securities between a single fund's accounts or between two or more funds. Security transfers enable hedge funds to better manage counterparty risk and secure the best rates for securities lending and collateral. Hedge funds, however, must be careful in how they transfer securities, particularly between different funds, as the SEC closely scrutinizes security transfers to ensure one fund isn't unfairly benefiting at the expense of another.
Hedge funds understand the risk. Unfortunately, transferring securities today is a precarious and time-consuming manual process involving faxes, scanners, and handwritten approvals. Even when security transfers are executed with great care, the result of today's process is a signed paper letter of authorization, or "LOA". Infamously susceptible to fraud, paper LOAs are easy to forge and difficult to report on or audit. Consequently, while beneficial to both manager and client, the time and difficulty of manually transferring securities presents a barrier to hedge funds trying to optimize their holdings.
The CashWire Security Transfer Module uses the same security controls and automation tools available in CashWire's cash payment system to consolidate and streamline the security transfer process from request to execution. Transfer requests, reviews, and approvals transparently pass through a secure workflow using industry-leading authentication and encryption methods. When fully approved, the Security Transfer Module uses SWIFT messaging to instantly communicate movement instructions with prime brokers and custodians to deliver and receive securities.
Additional CashWire Security Transfer Module features include:
Free deliver free recieve and dvp rvp via dtcc or euroclear
Create security transfers individually or in batches from the UI or with an Excel upload template
Security transfer delivery automation via email, Secure FTP or SWIFT (MT540, MT541, MT542, MT543)
Two Factor Authentication (e.g. RSA, SafeNet) for login and approval
Message encryption and encrypted digital signatures
Advanced reporting, auditing, and archiving
Client customizable workflows
About IntegriDATA Business & Technology Solutions, LLC
IntegriDATA is a financial technology software company and consultant dedicated to helping the investment management industry improve operational efficiency and reduce risk. Founded in 2002 by financial industry experts, IntegriDATA is a boutique firm specializing in payment automation, collateral management, expense allocation, and financial services infrastructure consulting. IntegriDATA clients include hedge funds, private equity, fund administrators, institutional investors, and mutual funds. IntegriDATA software helps the investment management industry service over $370B AUM.
Tags