Press Release
IntegriDATA Introduces Dependent Payment Automation with New Wire Chain Feature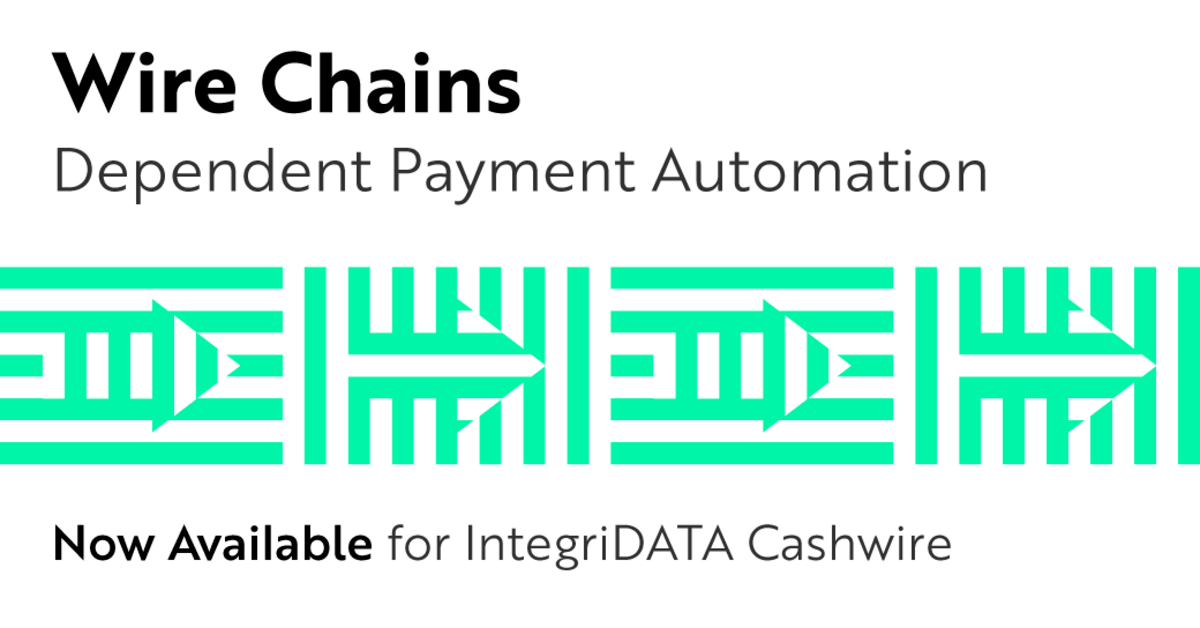 Wire Chains for IntegriDATA CashWire automates complex wire dependencies for hedge funds and private equity
IntegriDATA
September 30, 2020
NEW YORK, NEW YORK — IntegriDATA, a FinTech software vendor, today introduced Wire Chains, a revolutionary new feature that expedites dependent wire processing for its CashWire Payment System ("CashWire"). Wire Chains allows investment managers to quickly create a series of dependent wires that automatically execute in sequence as cash moves throughout the chain, helping them make complex payments with ease.
"Wire Chains brings advanced automation to CashWire, streamlining sequential payments into a single fluid action," said Ted Haslam, Treasury Product Manager at IntegriDATA. "We're excited to offer our clients a new way to process payments faster and easier than ever before."
Alternative investment managers often move money through a series of intermediary accounts before reaching a final destination. Previously, each wire in the series would be set up, approved, and monitored for confirmation individually; the process being repeated with the next wire in the series once payment for the previous wire was confirmed. Wire Chains build on CashWire's wire templating by allowing users to save a collection of wires as a single template. When called, the wire chain template creates a series of dependent wires and batches them for mass approval. Once approved, CashWire automatically executes the chain in sequence, triggering each wire in the chain after it confirms funding from the previous wire.
Common Wire Chain Use Cases
Private credit / private debt processing
SPV (Special Purpose Vehicle) processing
Recurring monthly payments
Nominee payments
Investor and general partner distributions
Wire Chain Features
Wire Chain Templates – Create a series of sequential wires from a single template and approve the series as a whole
Automated Execution – Dependent wires execute automatically as funding moves throughout the chain
Simple or Complex Paths – Wire chains can be a single path or many branching paths
Allocations – Funds can be allocated to accounts throughout a wire chain path using fixed or dynamic allocation percentages
Visualization – Wire chain templates are represented visually in an interactive diagram
About CashWire
Payment processing is an essential back-office function that becomes increasingly challenging as the number of banking and vendor relationships grow. Multiple banking relationships mean multiple bank portals and protocols, leading to fragmented workflows that are cumbersome to manage and are vulnerable to error or fraud. IntegriDATA developed CashWire in 2012 to help hedge funds and other investment managers improve payment efficiency and security. As a universal payment portal, CashWire consolidates and protects payment workflows, allowing investment managers to swiftly process wires with less effort and risk.
Other CashWire Features
Support for leading delivery methods including SWIFT, SFTP, API, secure PDF, and more
Advanced security controls, including custom approval workflows and two-factor authentication
Standing instruction, wire template, and account management
Accounting system integration for automated wire or journal entry creation
Security transfer functionality and support
About IntegriDATA
IntegriDATA is a financial technology software company dedicated to helping the investment management industry improve operational efficiency and reduce risk. Founded in 2002 by financial industry experts, IntegriDATA specializes in expense allocation, payment automation, and collateral management solutions. IntegriDATA clients include hedge funds, private equity firms, fund administrators, institutional investors, and mutual funds. IntegriDATA software helps the investment management industry service over $1.1 trillion AUM as of September 2020.
For more information on IntegriDATA, please visit integri-data.com. Connect with IntegriDATA on LinkedIn, Facebook, and Twitter.
Tags