Press Release
Software Solves Investment Manager Accounts Payable Challenges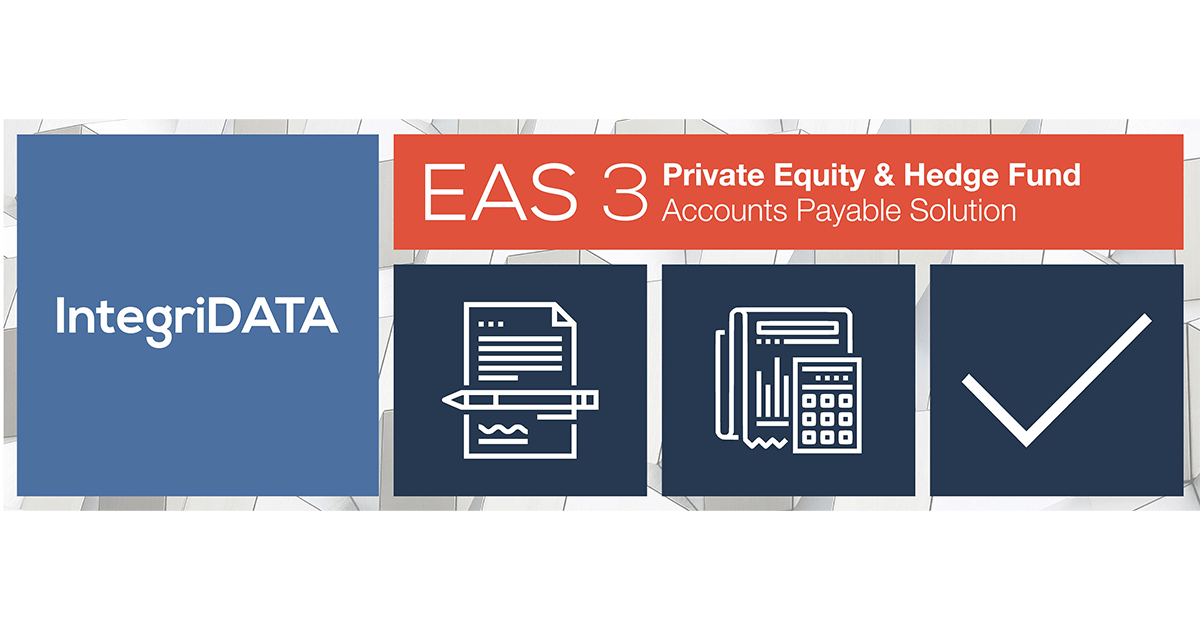 IntegriDATA upgrades hedge fund and private equity expense allocation software with vendor and expense management
IntegriDATA
February 14, 2017
NEW YORK, NEW YORK — IntegriDATA, a financial technology software company, today unveiled EAS 3, a major upgrade to its Expense Allocation System. EAS Expense Allocation System ("EAS") remains the only comprehensive solution to help alternative investment managers accurately and efficiency allocate expenses across management company and funds. EAS 3 adds new accounts payable functionality and is completely redesigned with a modern user interface.
EAS was initially developed to help private equity and hedge fund managers cope with the growing SEC scrutiny of expense allocation, or the process of distributing shared costs across management company and funds. After meeting with dozens of firms, IntegriDATA learned many in the industry not only struggle with allocating expenses but also the approval and management of invoices and vendors.
EAS 3 introduces automated vendor, contract, and invoice management. Approval workflows cover the lifecycle of an invoice, from initial capture to payment, for all expenses. Once approved, shared expenses are allocated amongst the management company and funds, a feature unique to EAS and the needs of private equity and hedge fund managers.
"There is clearly a need for an expense allocation solution, but for many firms the problem is more fundamental," said Ted Haslam, IntegriDATA's Head of Product Management. "The invoice and vendor management features in EAS 3 solve the accounts payable problem specific to the alternatives industry, particularly for small firms without expensive ERPs or enterprise general ledgers."
All but the largest alternative asset managers lack adequate invoice and vendor management capabilities in their general ledger systems. Firms must then rely on email and Excel to manually track invoice approvals, contract expirations, renewals, and contacts. This fragmented process leads to errors where unneeded services are automatically renewed or invoices are approved against policy – or not approved at all. Complicating matters, reporting is difficult or non-existent as fund and management company accounting lies in separate accounting systems.
EAS 3 is the missing link between management company and fund accounting, giving investment managers visibility into invoices and vendor relationships across their entire organization. Now all firm expenses, both allocable and non-allocable, are accounted for in one place.
With EAS 3 vendor management, users can track vendor agreement details to be notified when expenses exceed the agreement threshold and before contracts expire or auto-renew. Users can then renegotiate, renew to avoid a service lapse or cancel to avoid paying for services no longer needed.
"We're continually improving EAS, not only by adding new features but also perfecting what's already there," said Dan Noone, Head of Professional Services at IntegriDATA. "The goal of the EAS 3 redesign was to simplify user interactions and refine the look and feel to improve the user experience. We're excited to roll it out."
EAS 3 is completely redesigned with a new user interface that emphasizes content with a modern flat design aesthetic. The new user interface has a minimalist look with a refined visual hierarchy that helps users focus on the tasks at hand. User interactions have been streamlined to be more fluid and intuitive.
Additional New EAS 3 features include:
QuickBooks integration to book accounts payable journal entries
Invoice Uploaders to import the details of common vendors like Bloomberg, AT&T, and Verizon
Customizable approval workflows that can be tailored to each client's specific need
About IntegriDATA Business & Technology Solutions, LLC
IntegriDATA is a financial technology software company and consultant dedicated to helping the investment management industry improve operational efficiency and reduce risk. Founded in 2002 by financial industry experts, IntegriDATA is a boutique firm specializing in payment automation, collateral management, expense allocation, and financial services infrastructure consulting. IntegriDATA clients include hedge funds, private equity, fund administrators, institutional investors and mutual funds. IntegriDATA software helps the investment management industry service over $370B AUM.
Tags