Press Release
IntegriDATA Wins Hedge Fund Technology Award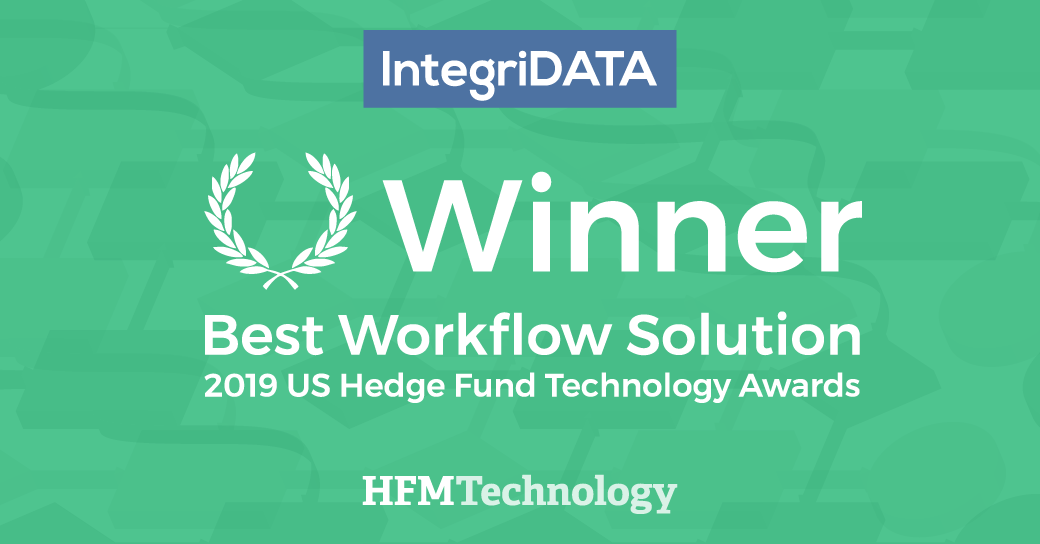 IntegriDATA wins best workflow management solution
IntegriDATA
February 21, 2019
NEW YORK, NEW YORK — IntegriDATA, a financial technology software vendor, today announced new tools to help hedge funds manage, allocate, and pay soft dollar expenses. The new soft dollar features are built into IntegriDATA's Expense Allocation System ("EAS") and are now available as an upgrade to IntegriDATA's EAS clients, who collectively manage over $754 billion in assets.
"The new soft dollar tools empower our hedge fund clients to better control how soft dollars are managed and used," said John Maronich, Project Manager at IntegriDATA. "These enhancements provide hedge funds a master expense solution with a consolidated view of both hard and soft dollar expenses."
Manage Soft Dollars Agreements
Hedge funds can define EAS vendors and agreements as soft dollar eligible, consolidating hard and soft dollar agreement management and driving downstream workflows. Analysts can now request research services within EAS, where they can be tagged as hard or soft dollar and routed through a matching hard or soft dollar approval workflow.
Track Soft Dollar Balances
EAS integrates with industry-leading soft dollar aggregators, automatically pulling in soft dollar balances and reporting them whole or by individual fund. Balances update as soft dollar transactions are proposed and processed in EAS, providing a real-time view into pending and available soft dollar balances.
Allocate and Pay Soft Dollar Expenses
Hedge funds can use EAS's powerful allocation technology to allocate soft dollar expenses just as they would hard dollar expenses. Mixed-item expenses can be allocated across hard or soft dollars and soft dollar expenses allocated across funds. Invoices for soft dollar eligible agreements default payment to soft dollars when soft dollar eligible and hard dollars when they're not. When approved, payments are made accordingly in hard or soft dollars.
About Soft Dollars
Like credit card points, advisors earn soft dollars from brokerages in return for client trades. Advisors use soft dollars to buy research services instead of using cash (hard dollars). Soft dollar arrangements may not offer the lowest possible commission rate but are permissible under Section 28(e) of the Securities Act of 1934, subject to appropriate disclosure. Accordingly, the SEC closely examines soft dollar use to ensure it is properly disclosed, allocated, and accounted for.
Other EAS Features
Expense allocation automation
Invoice collection and approval workflow
Vendor, agreement, and service management
Management company and fund accounting system integration
Compliance tools and digital fund agreements
About IntegriDATA
IntegriDATA is a financial technology software and consulting company dedicated to helping the investment management industry improve operational efficiency and reduce risk. Founded in 2002 by financial industry experts, IntegriDATA specializes in expense allocation, payment automation, and collateral management software. IntegriDATA clients include hedge funds, private equity firms, fund administrators, institutional investors, and mutual funds. IntegriDATA software helps the investment management industry service over $998 billion AUM as of November 2018.
For more information on IntegriDATA, please visit integri-data.com. Connect with IntegriDATA on LinkedIn, Facebook, Google+, and Twitter.
Tags