Press Release
Fund Expense Allocation Speed and Controls Improved by New Upgrade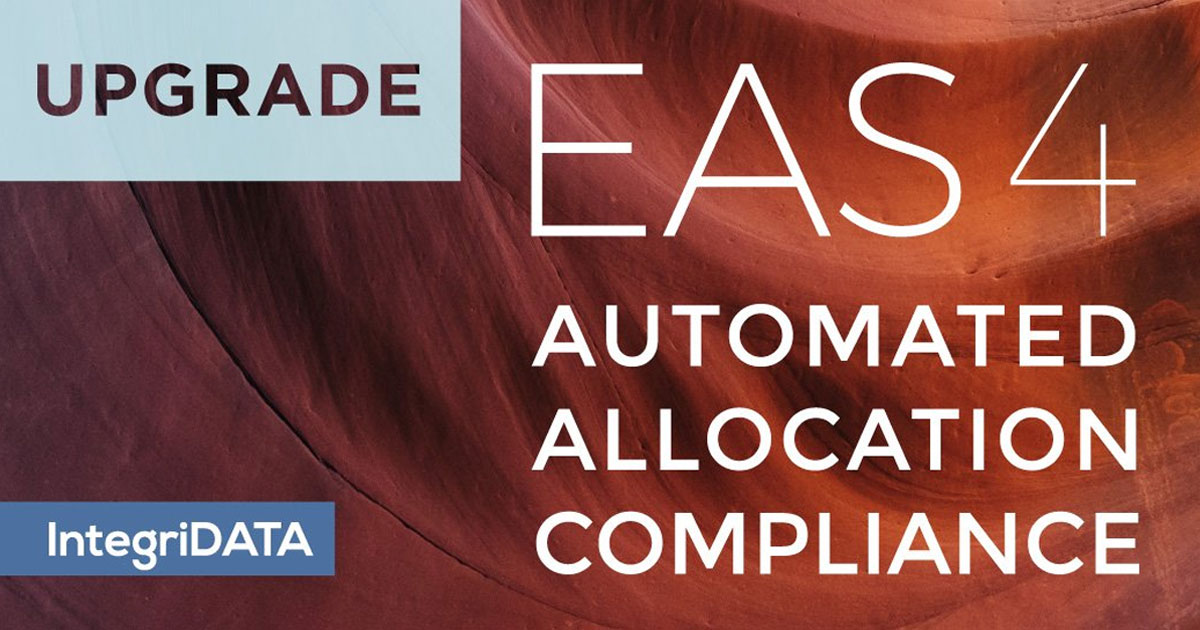 Landmark software release enhances expense allocation automation and compliance for private equity and hedge fund managers
IntegriDATA
April 3, 2018
NEW YORK, NEW YORK — IntegriDATA, a financial technology software vendor, today announced EAS 4, the latest release of its Expense Allocation System ("EAS"). EAS, the emerging industry standard for expense allocation automation, gains powerful new controls and accounting tools, empowering investment managers to allocate expenses quickly and in compliance. EAS 4 is now available as a free upgrade to IntegriDATA's EAS clients, who collectively manage over $683 billion in assets.
"EAS remains the industry's only comprehensive solution to help investment managers expedite expense allocation and avoid SEC penalties," said Giovanni Scerra, Head of Software Development at IntegriDATA. "EAS 4 was built alongside our largest clients, some of which manage over $100 billion in assets, and we are excited to bring enterprise-grade allocation technology to our entire user base."
EAS 4's new features simplify and accelerate the expense allocation process for private equity and hedge fund managers. They include:
Allocation Intelligence™: Automated Expense Allocation Decision Making for the Enterprise
EAS changed the way investment managers handled expenses by automating expense allocation calculation and journal entry booking. EAS 4 takes it a step further and automates allocation decision making to fully automate the expense allocation process.
Allocation Intelligence™ evaluates each expense and automatically determines how it should be allocated, without any human interaction, putting compliance at ease and freeing up accounting for more important work.
Digital Fund Agreements: Automate Compliance and Prevent Misallocations
EAS 4 Allocation Intelligence™ is powered by advanced compliance tools that simplify agreement management and prevent misallocations. Managed by Compliance, EAS Digital Fund Agreements provide a secure central location to store fund agreements and the key terms that drive expense allocation policy.
Allocation Intelligence™ uses the digitized agreement terms to power its allocation decision logic, enabling EAS to instantly process expenses without the risk of misallocations and costly SEC penalties.
"Manually allocating expenses in Excel is labor-intensive and time-consuming. EAS 4 completely automates expense allocation, preventing human error and liberating accountants and compliance professionals from the chore and risk of allocating expenses," said Michael Weiss, Senior Product Specialist at IntegriDATA.
Smart Workflows: Dynamically Route Expenses to the Right Department and Fund
Smart Workflows cut the time spent approving expenses and strengthens workflow controls to enhance productivity and reduce risk. EAS Smart Workflows automatically route expenses to the correct destination based on client-defined variables like department, dollar amount, vendor, agreement, or expense type.
Designed for investment managers, EAS Smart Workflows can send allocated expenses down to the funds for fund level review and approval.
Time Tracking: Allocate Compensation and Services Using Employee Time
The new Time Tracking Module tracks employee time by fund, enabling investment managers to quickly and accurately allocate compensation or any other expense that uses time as an allocation metric.
The Time Tracking Module is a fully featured time tracking system that can track time by percent or hour and is complete with timesheet approvals and alerts.
RESTful API: Streamlining Integrations and Empowering Developers
Integration and straight through processing just got easier with EAS 4's powerful new API. The EAS API is fully RESTful, simple to use, and infinitely scalable. Backed by the industry-leading Swagger API toolkit, the EAS API makes it easy for developers to seamlessly integrate with EAS to streamline workflows and sync data across the enterprise.
IntegriDATA has also partnered with leading software providers to expand EAS's out-of-the-box integrations with the most popular accounting and expense solutions.
Other New Features in EAS 4
Travel and Expense Report Module
Automated Invoice and T&E Capture
Mobile Approvals via Email
Other EAS Features
Vendor and Agreement Management
Advanced Reporting Tools
About Expense Allocation
Expense allocation is the complex process of allocating shared expenses across management company and funds. The Securities and Exchange Commission ("SEC") declared expense allocation an enforcement priority after it discovered investment managers were inadvertently misallocating expenses and causing funds to pay more than their fair share. The SEC has brought eleven public misallocation charges totaling over $41 million in penalties to date, making expense allocation a subject of intense investor and regulatory scrutiny.
About IntegriDATA
IntegriDATA is a financial technology software and consulting company dedicated to helping the investment management industry improve operational efficiency and reduce risk. Founded in 2002 by financial industry experts, IntegriDATA specializes in expense allocation, payment automation, and collateral management software. IntegriDATA clients include hedge funds, private equity firms, fund administrators, institutional investors and mutual funds. IntegriDATA software helps the investment management industry service over $935 billion AUM as of March 2018.
For more information on IntegriDATA, please visit integri-data.com. Connect with IntegriDATA on LinkedIn, Facebook, Google+, and Twitter.
Tags